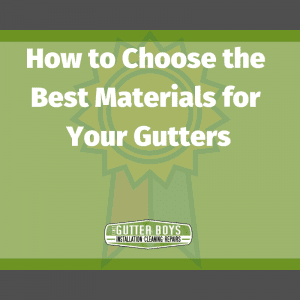 With the wet season arriving into Cincinnati, Ohio, you need to be prepared for the rain that will come. Rainwater lands on your roof and runs right into your Cincinnati gutters.Without proper gutter installation this water can go where it doesn't belong. This can cause significant damage to your home. If your house does not have gutters, or has gutters but needs a good gutter cleaning or repairs performed, you are in the right spot. In this short guide, you will be informed of the top ways to choose the best materials for your gutters.
Cost
One way to choose material for your Cincinnati gutters is to consider the cost of the gutter equipment as well as the labor to have gutter installation performed. Vinyl material is the most inexpensive, and it is easy to work with, but it doesn't last as long as other types of substances, so is it really a cost saving? Aluminum is also relatively inexpensive, and it does hold up better than vinyl, but not quite as long as steel or copper gutters. Make sure you check into the cost of the different kinds of gutter material out there as well as the labor to install it before you make your final decision.
Preference
If you are like most people, you have a preference to things you like. When it comes to remodeling, roofing fixes, painting, HVAC maintenance, power washing, or any other type of service, you have a particular handyman you like to perform the work. The same goes with a preference to gutter cleaning and gutter installation. If you like vinyl products or like steel channels, then go with your favorite because if you don't, you will wish that you did and will not be happy with the gutters as is.
Time 
Time also matters when deciding how to choose the best material for your gutters. The length of time you will be living in your home makes a huge difference whether you want to invest plenty of finances into the home, just to turn around and sell it. The time it would take a gutter installation technician to perform the gutter work also will factor into your decision regarding time.
Options
What type of Cincinnati gutters do you want? Do you want gutters with a leaf guard? Do you want seamless gutters? How about vinyl, copper, or steel gutters? Copper gutters are quality products that have great longevity; they can last up to fifty years! They are also beautiful on your home and change naturally in color. Steel is one of the strongest materials for gutters and is much more reliable than aluminum or vinyl, and steel is resistant to rust. If you are going for cost, then vinyl is the most inexpensive, but they also have a shorter lifespan and don't do well in snowy climates. Lastly, aluminum is a common choice for its reliability, longevity, color choices, and easy gutter installation.
As you can see, there are multiple ways to choose the best materials when you are performing gutter cleaning or gutter installation. Since your gutters are your first line of attack to keep rain out of your home, you want to make sure you go with the best gutters out there for you and your loved ones. If you follow our advice on the top ways to choose the best materials for your gutters, you will have a sturdy house foundation and a dry place to lay your head!