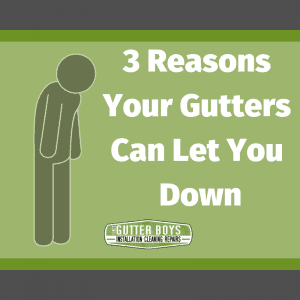 With the rainy season upon us in Cincinnati, Ohio, it is essential you have gutter cleaning and gutter washing performed on your home's drainage system. Gutters can let you down, and you do not want your home to be damaged when they do. In this short guide, you will be informed of the top three reasons gutters can let you down and how to prevent it from happening to you and your home.
Gutters can get clogged and overflow 
When was the last time you performed gutter cleaning on the gutters on your house? If it has been long enough that you can't recall quickly, then you are in need of a gutter washing. Gutters can easily get clogged with autumn leaves falling onto your home and into the troughs. If left to deteriorate naturally, the leaves and other debris will clog the drainage pipe and downspout and water will fill the trough, spilling over the edges and onto the ground below.
The water that is spilling to the ground is sitting right next to your foundation. This can cause softening and sinking of the foundation and can cause your home to shift. This makes your foundation untrustworthy as it is no longer a strong, firm foundation.  One way to fix this is to affix a gutter protection system such as a screen to prevent leaves and other debris from falling into your gutters. A gutter services company could perform this task for you very quickly and at your convenience.
Gutters can deteriorate 
A handyman or professional company maintains and repairs items such as painting, roofing, chimney repair, HVAC, remodeling, and power washing to name a few. They do this to keep your home is good condition. If these items were not looked over, they would deteriorate. Your gutters, if not maintained, can also deteriorate. Rainwater can fill in a clogged trough can cause extra weight on the system and rip the gutters off your house and go crashing to the ground. This causes much damage and can be quite a financial investment to have the repairs made and the gutters re-installed. Make sure to have gutter cleaning performed on your home each season. If you cannot have gutter washing done that often, then call a local professional gutter company to complete the task at least once a year.
Faulty installation and low-quality materials
If you or the individual you purchased the house from was a bit of a cheapskate when it came to gutter materials and installation, then your gutters will fail you. One of the common reasons a gutter will let you down is due to low-quality materials. Your gutters are exposed to the elements of sun, wind, rain, and hail day in and day out. This could weaken them if you used a low-quality material. The next storm that rolls in could bend or break your gutters. Make sure your gutters don't let you down; call the experts in gutter services to perform gutter cleaning and gutter washing as well as any other gutter related service to your house today!
If you are a native to Cincinnati, then you are aware that there are a lot of rainy and stormy days in the Ohio area. If you follow our advice on the top three reasons gutters can let you down and how to prevent this from occurring to your home, you will have a home that is leak proof with a study foundation for years to come!
To get a quote or schedule an appointment, call or text us at 513-479-8800. You can also complete the contact form below.