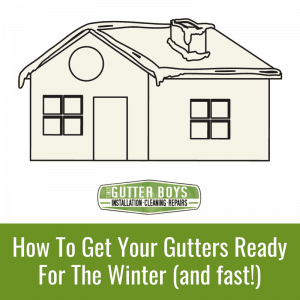 It's almost winter, which means the snow is about to fall and the ice is about to freeze everything in sight. If you recently went through gutter installation, it's probably extremely important to you to be able to keep that new purchase in tip-top shape. But no matter how old your home's gutters are, they will need some TLC before the snow and ice begins in earnest. That means your running out of time to get your gutters ready for winter.
Fortunately, keeping your gutters safe in the winter only requires a few steps. There are a few easy things you can do to this month to prevent them from being damaged all winter long. Let's take a look at a few of them.
First, you want to make sure that you empty your gutters of any and all debris. After the fall season, there's a high chance that your gutters are filled with leaves, sticks, and debris. Preventing any major blockages from forming in your gutters is simply a matter of cleaning your gutters out twice each year. It's important to keep new and old gutters alike clean so that they don't crack due to the heavy amount of material inside them. Likewise, these blockages will prevent your gutters from doing their only job: draining water away from the house and its foundation.
Cleaning your gutters is especially important before winter arrives because of ice dams. Blocked gutters will hold water, which forms ice dams when the temperature drops below freezing. These massive ice dams will not only damage your gutters, but they can also damage your siding and roofing. In the worst case scenario, they will cause leaks and water damage inside the home, too.
If you plan to clean your gutters yourself, feel free to use gloves, a gutter scoop, a pressure washer, or other gutter cleaning tools. However, any local gutter repair services will be able to clean your home's gutters much more quickly and efficiently.
Another way to prepare your gutters for winter is to check them for any damage. If your gutter has somehow become cracked, there is a chance that the snow and ice will do even more damage over the winter. If there are any cracks or leaks, find where it originated and schedule gutter repair services as soon as possible! Finally, from the ground, check to see if the gutters have pulled away from the home in any sections. Detached gutters are in danger of collapse over the winter.
You've gone through so much as a homeowner during the process of gutter installation, it'd be a shame to have them ruined. Along with keeping the gutters in check, you want to make sure that any water is being dispersed in a proper manner away from your house to prevent any frozen water or potential leaks. You don't want the water to form a pool, which could cause some serious issues in your yard or driveway. These pools can also damage your home's foundation. During the final weeks of fall, check to ensure your gutters are properly draining water to storm drains like they are supposed to.
Keeping your gutters cleaned and in good shape is crucial before, during, and after the winter, but you're running out of time to winterize your gutters. The winter weather can be damaging, so it's important to take precautions before any potential storm hits to prevent any problems. Doing so will allow you to avoid any gutter repair in the future.