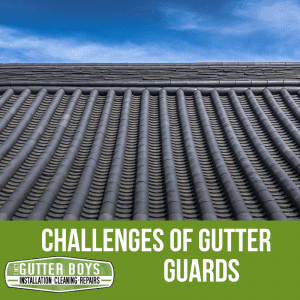 Homeowners are always seeking ways to reduce their household maintenance costs, and adding guards to your gutter installation appears to be the perfect solution to the regular costs of cleaning your gutters. Advertisements selling gutter guards often play on an owner's emotions and offer the incentive of a significant cost saving from the regular gutter repair home owners carry out annually. However, all isn't necessarily as it seems. It may surprise you to note that gutter guards do come with some challenges. These shouldn't be deal breakers, but are things you want to keep in mind when choosing gutter guards for your home.
Expense
It can be tempting to go for cheap, and buy a low cost gutter guard, usually made of polymers. These gutter guards will do the job for a short period of time, but won't hold up under the long term. Plastic is susceptible to damage not only from the normal wear and tear of weather, but also to pests. Squirrels and birds will often target plastic gutter guards due to seeds that get caught in them. As these animals try to eat the plant material that's caught in the guards, they'll tear away at the plastic of cheap gutter guards. Plastic also warps over time and can come loose. If you're on a limited budget, plastic gutter guards might seem like a good solution, just remember they're a short term one and will need to be replaced. If you have the budget, higher quality gutter guards, like our AWA Standard gutter guards will get you more comprehensive protection and last far longer.
Not always practical for your roof
If you have a steep roof and or sections of your roof that experience heavy run off you may find the guards are completely ineffective as water will overshoot the guard. They can also be heavy, and this can increase the need for a gutter repair. Cincinnati homeowners may find their gutters start to sag in the middle. Check your gutters can withstand the extra weight before installation, or you could end up doing more harm than good. If you purchase gutter guards from us, we will do a full inspection and be able to recommend the correct style of gutter guards for you, as well as any other maintenance that may be required before installation.

You will still need to clean them
A common misconception when purchasing gutter guards is that you will never have to clean your gutters again. While it is true that you won't have to perform as regular maintenance as you did before, guards themselves will still need cleaned and inspected. The debris that normally would be inside your gutters will now build up on the guards themselves. Usually, this debris will wash off in regular rains, but some smaller particles may still build up on the gutter. Also, depending on the type of gutter guard you get, some particularly small debris like pine needles may still get through and get caught inside your gutters. Checking your gutters once a season, either in the spring or fall will protect you from this buildup. This also would give you an opportunity to ensure the gutter guards are still fitted correctly and no damage is present.
We hope this has given you some good questions to ask when considering gutter guards for your home. If you do decide to get them installed, call us today so one of our trained staff members can assist you with choosing the right guards for your home.
Update September 2020:  We're always looking for the best methods and products to serve our customers.  We no longer offer AWA gutter guards, but we think you'll be more than pleased with our latest selection.  Check them out here. 
To get a quote or schedule an appointment, call or text us at 513-479-8800. You can also complete the contact form below.