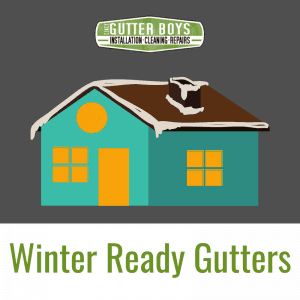 With fall coming to an end and winters quick approach, now is the time to get your home winter ready.
One of the important "winter ready home" tasks is to have your gutter system cleaned and debris free. This can be a very time consuming and laborious task that you may not want to think about, but you know it has to be done.
Warm blankets, hot chocolate, and holiday fun are just around the corner. The last thing you want to worry about are the clogged gutters and other debris causing damage to your home. Keeping your gutters clean, keeps them in tip-top shape, and ready to redirect the melting snow at the end of winter away from your foundation.
If water pools around your foundation from the wet and melted snow, it can cause some serious damage to your home or business. Water pooling can cause pressure around the foundation causing cracks in that foundation. Cracks are a problem on their own, but they can also lead to water leaking into your home. Water pools can also lead to erosion of the soil surrounding your home which may cause shifts in your foundation. If you can imagine, these repairs can be very costly and time-consuming.
The holidays are a time for you to relax and be thankful for your surroundings. Why don't you higher a professional company to come and take care of the hard work to get your home winter ready, while you sit back and relax. We will not only take care of the gutter cleaning, but we will inspect the roof and gutter system as well. If we notice any concerns, we can talk about a plan with you so your home can be in its best shape. You can enjoy the winter months with a peace of mind knowing that you don't have to worry about what will happen when all the snow melts.
To get a quote or schedule an appointment, call or text us at 513-479-8800. You can also complete the contact form below.