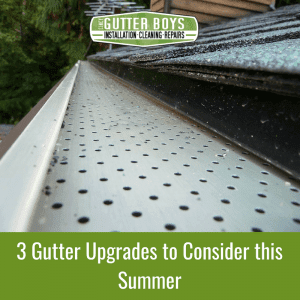 It has been a great summer in Cincinnati and the weather has been kind to us. With the beautiful weather, many individuals like to start on remodeling the house, power washing the deck, performing chimney repairs, HVAC maintenance, roofing repairs, touch up exterior painting, or other such tasks. It is also important to inspect your gutters and perform gutter repairs or, if you do not have gutters and need them, gutter installation. In this short guide, you will be informed of the top three gutter upgrades to consider this spring.
Replace leaf screens or downspouts as needed
Your gutter system is one big interconnected drain system. If one area is off, then it will affect all other sectors. If you have damaged leaf screens and needed gutter repairs, your system will not function appropriately and can cause leaves to build up and clog the entire system. If you need gutter cleaning services, make sure to call the professionals to have a fast, inexpensive gutter cleaning performed. One upgrade to consider this spring is to replace damaged, or worn leaf screens, outlets, and downspouts as necessary. This will cause your system to work properly and clear the water out faster!
Revamp your gutter system
A pleasant upgrade to make this summer, if you have the time and finances, may be to revamp your old gutter system to new aluminum gutters. You can contact a local gutter installation company to perform the work for you at a reasonable cost. With a better system that can properly drain the rainwater, you will be less likely to have leaking, wood rot, or any other water nuisance that could arise. One benefit to upgrading to a newer gutter system is if you plan to sell your home shortly. Replacing the gutters with a more recent model will increase the value of your home whether you plan on selling now or a long time in the future!
Upgrade to steel
If your aluminum gutters are getting worn or you have had them for many years, it may be a chance to upgrade to steel. Steel gutter installation will last for many years to come and will outperform any other type of gutter on the market. Steel gutters are stronger, are leak free, and have a huge drainage capacity for those fierce Cincinnati thunderstorms! They are also environmentally friendly, what could be better than that? As you can see, there are multiple upgrades you can do to your gutters this summer. If you are not in the market for upgrades at this time, then indeed verify your gutters are working properly and that they do not need gutter repairs. If so, be sure to call in the professionals or an experienced handyman to fix the damage.  If you are building a new house in the Cincinnati area, make sure to investigate gutter installation as they are a priority to have. Gutters don't just drain water from your home, they keep water off the roof and siding to prevent wood rot, and they keep your foundation secure by draining the water outward away from the foundation. If you follow our advice on the top three gutter upgrades to consider this summer, you will have clean gutters to get you through until next year!