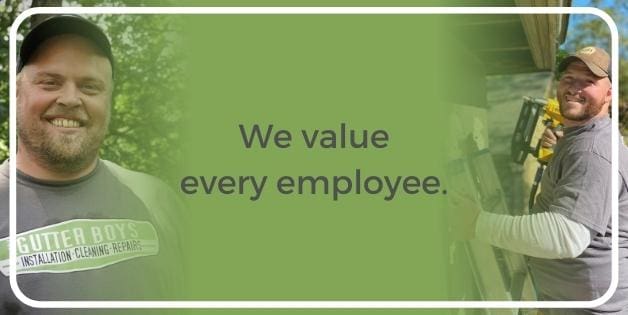 We are a highly rated gutter cleaning, installation, and repair company located in Covington, Kentucky. We service Northern Kentucky and the greater Cincinnati area. Our mission is, "To positively impact every person our business touches: our customers, employees, community, and beyond." This means that we utilize the skills of our team to impact everyone we come into contact with. Wouldn't it be nice to work for a professional company that cares about your success? That's part of our mission at Cincy Gutter Boys--to value our employees and help them reach their potential. We do this through a great culture, generous benefits, and personal development training that helps you grow as a person. We are a second-chance employer and a reputable, growing company which means lots of growth potential for you. Check out our reviews on Google, Facebook, Better Business Bureau, Angie's List, etc.--we care about our customers and our employees! We also like to have fun--contests with prizes like Xbox consoles, Reds tickets, cash prizes, etc.! We also give a portion of every dollar that comes in to charity.
· Monthly health stipend
· Paid Vacation
· Paid Holidays (6)
· Sick Pay
· Extra income available through bonuses and commissions
· Overtime pay for field workers during busy spring and fall seasons
· You will be part of a company that treats its employees well and contributes to charity
· You get to work outside and have a consistent change of pace--no two jobs are the same
· You get to meet nice customers who are appreciative of your service
Our next team member will be… First and foremost a seamless fit, adding value to our company culture by sharing and fleshing out our core values:
--- Be Positive ---- No Cutting Corners ---- Embrace Change ---- Others First ---
We don't believe that you need to have higher education or years of experience to contribute in a meaningful way. With our Apprenticeship Program our hiring team focuses on candidates who embody our core values and will contribute to our company culture, rather than what's on your resume. We focus on training and leadership programs to teach you the skills necessary to grow and advance within our company. If you're adaptable and eager to learn, then this is the workplace for you!
Interested in becoming a part of a great team with a company that values your time and work? Apply online through Indeed! We are regularly hiring for different positions, ranging from field technicians, sales consultants, and even members for our office team!
No in person inquiries please.