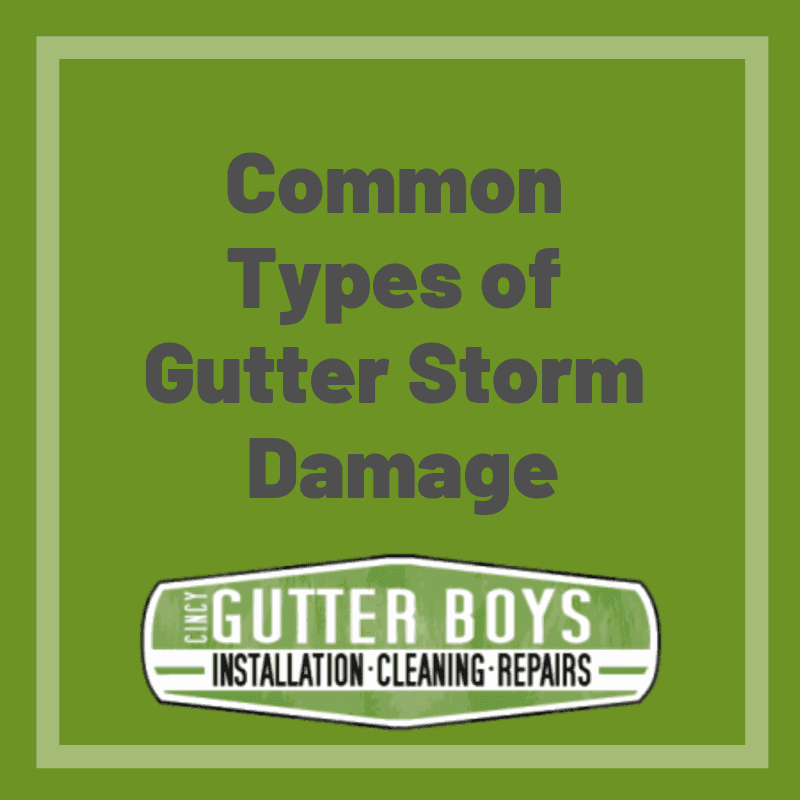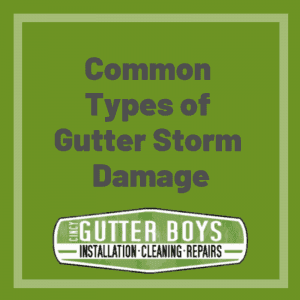 Being in the heart of summer in Cincinnati, Ohio, you have to expect some severe thunderstorms in the area. Gutter storm damage  can occur as a result of these wicked rainstorms, which would then require gutter installation to occur as the proper remedy for the situation. In this short guide, you will be informed of the top five common types of gutter storm damage and how to recognize them.  
Sagging
Thunderstorms in the Cincinnati area can damage gutters and troughs and cause them to sag. Most of the time it is because the gutters are somewhat clogged, and a heavy rain comes and backs them up. The weight of the full trough can cause the middle to start to sag and pull away from your house. If this happens to your home, you need to reinstall the fasteners that hold the gutter in place. This can be done easily by a gutter repair company in the Cincinnati area. 
Leaking
If a massive thunderstorm brings in the wind, debris, seeds, pods, twigs, and leaves can fall into your gutter troughs and clog them up. If the storm then dumps a significant amount of rain in your area, your gutters can fill and start overflowing the water, which can harm your foundation. Look into gutter installation of leaf guards that will protect your gutters from the debris that trees can shed. You will still have to have the gutters cleaned out occasionally, but they will be protected from overflowing and leaking.  
Falling troughs
If high winds or heavy rains come to the Cincinnati area, there is a chance your gutters may be damaged by the wind and fall off your home. If they can be salvaged, a gutter repair company could come and perform gutter installation to get your drainage system back up and working. If you hear high winds and a shredding sound, it could be the wind twisting your gutters and ripping them off your home. Make sure to have them inspected annually to verify they are in good working condition.  
Water damage
Water damage is always a concern with gutters and as a homeowner in general. If your troughs are unlevel, installed improperly, leaking, or sagging, they could cause you to have water damage behind the siding or at the foundation. This can cause moisture in the basement and lead to mold. Anytime your gutters need cleaning or inspecting, make sure to stay on top of it as the lack of detail could cost you big bucks.  
Hire a professional
Just as you would call for a professional to perform HVAC maintenance, chimney repairs, power washing, simple remodeling, exterior painting, or roofing repairs, you want to do the same when inspecting and repairing your gutters after storm damage. If you are a novice and have never performed gutter inspection after storm damage or any type of gutter installation before, or you do not have the knowledge or time to complete the task, hire a professional team or a local handyman with experience to finish the task for you.  
As you can see, many types of damages can occur due to bad thunderstorms and the fallout from those damages on your property. If storm damage has left you with the need for gutter installation, make sure to call in a professional team to give you a fair quote and timeline. If you follow our advice on the top five common types of gutter storm damage, you will know when there is a problem. This will allow you to have the most damage-free and efficient gutters in all of Cincinnati! 
Limited time offer: 10% off new gutter installation/replacement OR full gutter guard installation
Call or text to schedule your quote today!