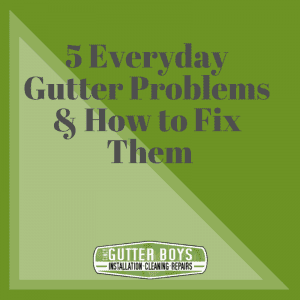 Gutters are a must when you live in Cincinnati, Ohio. Thunderstorms can pop up out of nowhere and dump a bunch of rain, cause storm damage, and cause you to need gutter repair. What you do not want is to have any problems with your drains. In this short guide, you will be informed of the top five everyday gutter problems and how to fix them.  
Clogged gutters
One of the most well-known issues with gutters is clogging. Debris, twigs, leaves, seeds, and other sediment can fall from the trees and foliage into your gutters. This causes the drains to slow down and water to back up causing added weight in the trough. If left untreated, the gutters could leak, lean, start to sag, or fall off your home. The best way to correct this issue is to clean out your gutters often and on a schedule. If not done often or appropriately, gutter repair will be needed by a reputable gutter services company.  
Leaking troughs
Another everyday gutter problem is a leaking gutter. The most crucial aspect of this is to figure out why the trough is leaking. Did storm damage occur and cause the gutter to leak? Is it a seamless gutter or does it have seams which may have split and are leaking? Is the gutter clogged or have debris in it? Once you have considered the problem, you need to find the solution.  
The best answer here is to bring in a gutter cleaning company if you do not know what is causing the issue. Also, if you are not sure how or you do not want to clean and maintain your own gutters, hire it out to a local handyman who can also assist you in any painting, simple remodeling, power washing, chimney repair, roofing fixes, or HVAC maintenance that you may also need to have accomplished.  
Leaning/Falling gutters
Another common gutter problem that can occur is a leaning or falling gutter due to storm damage or the high winds that come along with thunderstorms. If the gutters are older, not securely attached, heavier due to clogs, or are installed incorrectly, they can fall victim to Cincinnati storm damage and need professional gutter repair.  
Sagging gutters
Some homeowners see sagging gutters and think that it is normal wear and tear with the age of the gutters. This is not true. A sagging gutter is usually due to a slow-running drain due to sediment and debris in the trough of the gutter. You can perform gutter repair on the equipment by cleaning out the gutters of the material that is clogging it or causing it to run slow. Then install a leaf guard on top of the troughs to keep out unwanted debris. If you are not handy, hire a local professional gutter services company to perform these tasks for you. They can also either repair the sagging gutter or install a new one that will allow the water to drain from your property correctly.  
Improperly working gutters
Lastly, poorly working gutters can be due to a variety of causes. They could have been installed wrong or have a gap between the home and the gutter. They could be loose, and the rainwater may be falling behind the gutters instead of inside of them. Any type of improperly working gutters needs to be looked at by a professional. A local gutter services company could come to your home and check out the problem and give you an estimate of the cost to repair or clean the gutter.  
As you can see, there is a myriad of problems that can occur with your gutters. Whether they are leaking, falling off the house, or are clogged, be sure to perform gutter repair and maintenance on them quarterly. If you follow our advice on the five everyday gutter problems and how to fix them, you will have the cleanest and best-draining gutters in all of Cincinnati! 
To get a quote or schedule an appointment, call or text us at 513-479-8800. You can also complete the contact form below.