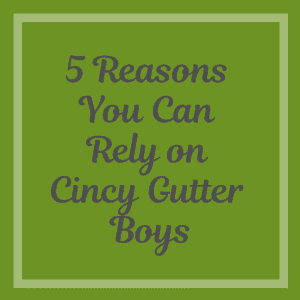 Do you have a Cincinnati home with gutters? Do you need gutter cleaning or gutter repairs performed on your drainage system? If so, Cincy Gutter Boys is the company for you. In this short guide, you will be informed of the top five reasons you can rely on Cincy Gutter Boys for all your gutter needs.  
Quality
The most important reason you can count on Cincy Gutter Boys is for the quality work we do. We make sure that when you need gutter cleaning, that we clean all of your gutters, including the troughs, downspouts, and any extension pieces. The same goes for installation projects as well as gutter repairs. We do not leave a job without finishing it, and it must be done properly and have our quality stamp of approval from you, our client.  
Dependability
Another essential reason to rely on Cincy Gutter Boys for your gutter needs is due to our dependability. We are an honest bunch here at Cincy Gutter Boys. We work with integrity, honesty, trust, and dependability. If we say we are going to perform a job for you, we stick to our word. We will quote you a fair price, and we try to keep to that price as much as possible, but unfortunately, sometimes, unforeseen issues can arise that we were not expecting. If this occurs, you are the first to know, and we will not perform any work until you give us the go-ahead! 
Efficiency
Another great reason you can rely on us here at Cincy Gutter Boys is that we are quick and efficient. We do not waste your time or ours. We come in, get the job done, and leave you to the rest of your day. We do this type of work daily, so we have become experts in this field. Our technicians are knowledgeable, friendly, and can get the job done both correctly and rapidly.  
Reviews and Testimonials
Another excellent reason you can rely on Cincy Gutter Boys is because of all the positive reviews we have received in the past, from customers just like yourself. We strive to make every client encounter perfect, and by writing us a review or testimonial, it proves to other customers that we are, in fact, the best in the Cincinnati area! 
Customer Service
We are a team of professionals that you can rely on to get the job done both correctly and with quality assurance. Just as you would call for a professional to perform HVAC maintenance, chimney repairs, power washing, simple remodeling, exterior painting, or roofing repairs, you want to do the same when inspecting, cleaning, and repairing your gutters. We have excellent customer service skills and would care for your home and gutters like they are ours.  
As you can see, there are multiple reasons why you can rely on Cincy Gutter Boys for your gutter needs. It does not matter if you need gutter cleaning, gutter repairs, or gutter installation, we will do a fabulous job that is quick, efficient, and correct for the most inexpensive price available. Whether it is for our quality, our dependability, our efficiency, or our customer service, we are here for you and all your Cincinnati gutter related needs!