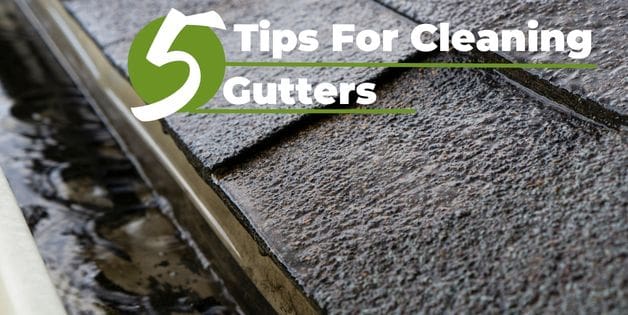 After a Ohio winter, the people of Cincinnati have cabin fever and want to get outside and enjoy the weather. What better way than to perform some summer cleaning as well? There are a variety of summer cleaning tasks that need to be accomplished including power washing, roofing fixes, chimney repairs, painting, and HVAC maintenance. One summer cleaning task to perform right away is gutter cleaning and gutter washing. In this short guide, you will be informed of the top five tips for cleaning your gutters safely this spring.
Gather all the needed tools
When performing gutter cleaning, it is critical that you have all the needed tools ready so you are not continually climbing up and down your ladder. Tools that you will need include a ladder to get up to the roof, a pair of gloves so you don't get a splinter or bit by an insect, a bucket to collect the foliage from the gutters (or you could throw it below, but then you must perform clean-up when you get back down on land), and a spray nozzle and water hose to do the gutter washing.
Verify all the equipment is in working order
Before you get on the roof, test your water is turned on, the hose is not kinked, the spray nozzle works, the ladder is even and stable, and you have both gloves, and they are in good condition. Since safety is the most crucial aspect of the spring cleaning, this step will not only keep you safe but save you time as well.
Have a spotter
Having a friend, loved one, or neighbor outside watching you as you clean the gutters is always a good idea. You never know what can happen and it is always smart to have a spotter to keep the ladder secure if you are on uneven, rugged land or an area with a steep grade. They can also get you any needed items if you forgot something in the last two steps.
Don't clean gutters around power lines
If your home is surrounded by power lines and you have any doubt at all, please call a gutter cleaning company to come and unclog the gutters for you. Safety is the utmost priority, and you need to stay safe. If you are comfortable cleaning your gutters around the power lines, then make sure you are using a fiberglass ladder rather than aluminum and first check to verify there is not fraying or damage to the protective sheath of the cable line. If the cable appears to have any damage, call the power company for repairs.
Take your time
Lastly, the most important tip for cleaning your gutters safely this spring is to take your time. Mistakes and accidents occur when you are trying to hurry. If you don't get the job done all at once, take a break and come back to it or leave it for another day. Safety is imperative and rushing to get the job done helps no one, especially yourself.
If you do not have a ladder, do not want to climb on the roof, don't have the time, or any other reason, call Cincy Gutter Boys to get the job done. Don't risk doing the gutter washing on your own if you have any doubt, as safety always comes first. If you follow our advice on the top five tips for cleaning your gutters safely this summer, you won't have to worry about any Cincinnati rainstorms this season!