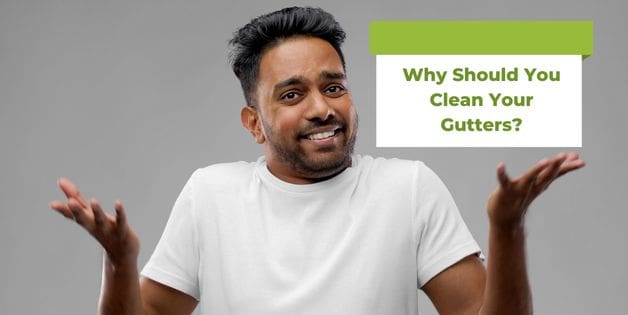 6 Reasons to Clean Your Gutters
There's more to gutter cleaning than just removing debris and making them look better. When gutters are cleaned you are preventing problems from occurring that could cause significant damage to your property. Water damage can take some time to become noticeable, and when you do become aware of it structural problems could already have occurred. Correcting water damage is costly and the potential for long-term problems can't be overstated. By taking preventative steps through regular gutter cleaning, Cincinnati residents can help prevent all kinds of problems.
Cracks in the structure of your property
When water finds its way into the walls or the foundations of your home it can cause untold damage to the property's structure. During freezing temperatures, water expands to form ice and this can cause cracks to form in the walls and the foundation. Serious safety problems can occur as a result of cracks in the structure of your property and it goes without saying they are expensive to fix. Making sure water doesn't get into your walls in the first place can prevent problems in the future.
Leaks around your home
Leaks can occur anywhere and at any time. Clogged gutters can cause water to pool, which places stress on the joints of your drainage system or cause water to run into parts of your home where it can cause damage. Water can run into your roof space, causing damage to your shingles or the roof structure. Alternatively, your guttering can leak from the joints and cause water to run down your external walls. Finally, if your drains aren't cleaned, water could pool at ground level and this can cause leaks into your basement. By carrying out gutter washing, Cincinnati residents can help prevent these problems.
Damage to sidewalks
Water that doesn't flow through the system due to debris can flow over the top of the guttering onto the ground below. Water can flow onto sidewalks and other paths or walkways which can cause a hazard. If the problem isn't rectified quickly through gutter washing, Cincinnati residents could find moss and lichen growing on their sidewalk which can cause it to become slippery. In freezing weather, the water can quickly ice over creating further problems.
Infestations
Insects love a damp environment and gutters clogged with organic matter such as leaves attracts a variety of insects. The only way to prevent this problem occurring is to clear your gutters so insects aren't attracted to them.
Damage to your landscaping
Your beloved garden can be affected by pooling of water at ground level if your gutters become clogged. Lawns and plants can be ruined by flooding cause by water pouring from guttering. Lawns can become muddy and may need reseeding to bring them back to good condition, and flowers simply cannot survive being underwater.
Damage to wood around your property
Water can get in anywhere, but wood is particularly susceptible. Wood can easily become rotten due to water damage and will need to be replaced. If you home is built with a wooden structure you should take particular care to ensure you carry out a regular program of gutter cleaning. Cincinnati properties with a wooden structure need careful monitoring and thorough gutter washing to prevent water damage.
Prevention is better than a cure. Preventing water damage is simple and cost effective. Cleaning your guttering of debris and ensuring water is able to flow through the drainage system properly is the best way of keeping your property is good condition.