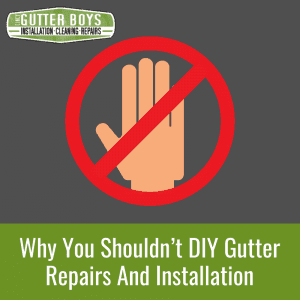 Even if you watch HGTV every day and follow all the DIY shows, leaving gutter repair and cleaning to the professionals is in your best interest. Hiring a local professional to assist with your rain gutters needs can save you money in the long run, possibly save you from a nasty fall, and get the job done right. Still not convinced? Here are just a few more reasons why your gutter work shouldn't be on your DIY list for any season.
Safety First
According to a 2014 report by the Occupational Safety and Health Administration (OSHA), as many as 39.9% of worker fatalities are attributed to falls. When it's time to clean or repair or provide any type of maintenance for your rain gutters, you need to climb. Local gutter cleaners have the proper safety equipment, training, and experience necessary to take on these challenges. Look for a reputable company that has insurance! This will cover accidental property damages or injuries caused by work-related incidents. If you decide to do it alone or have a friend help and any type of accident happens, it's entirely on you.
Quality Work
If you decide to repair old gutters or clean the rain gutters or downspout alone, there is no guarantee that you will do it as thoroughly as a professional. If done incorrectly, this could also create more work for you in the long run. An inch of rainfall doesn't sound like much, but when it falls on an average-sized roof, it adds up to a 1,900-gallon torrent sluicing off the eaves. That's a lot of water that could cause a lot of damage if your gutters are clogged or not properly installed. Your gutters shouldn't just look good, but they should also perform under stress. A professional company has the right tools and experience to handle any gutter related task. Or look at it this way, if your gutter fails because you didn't install it properly, you'll likely have to spend more money to have it fixed by professionals anyway!
Convenience
Depending on the degree of damage, gutter work can take several hours or even days before it gets finished. Hiring a gutter repair service will save you time and the hassle of a potentially dangerous and difficult task. Not only that, but if you do decide to handle cleaning or repairing rain gutters yourself, you are also responsible for the mess afterward! Let the professionals take care of that, too.
There are so many other projects around the house that you can take on the challenge and enjoy, but your rain gutters and downspout should be left to an experienced gutter business. Your safety, time, and budget should always be considered first and foremost, as a homeowner. Hiring a professional for gutter cleaning, repair, and maintenance will allow you to take one more thing off your to-do list while knowing that the job is being done well.