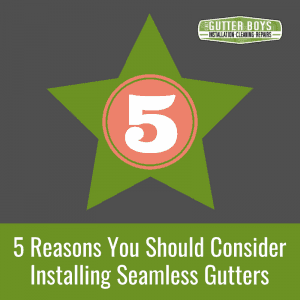 Have you recently purchased an older home in the Cincinnati, Ohio region? Does it need to have gutter installation performed or need new gutters installed? If so, you must put a priority on this task. Gutter repairs and fully functioning troughs are necessary for any home in the Ohio area. In this short guide, you will be informed of the top five reasons you should consider installing seamless gutters.
Disrepair
Is your old draining system falling apart? Has it been patched and fixed repeatedly? If so, there may be no hope of performing gutter repair on them any longer. You may need to complete gutter installation to get appropriately draining gutters for your home. If old gutters have been patched over and over, sometimes they are at the end of their lifespan and it is less expensive to install new gutters than to continue to fix the old ones. If you do install new gutters, go big or go home! Choose seamless gutters, as they are the best on the market and can last you for many years to come.
Fewer clogs
One of the great things about seamless gutters is just that; they are seamless. This means they have no connections that can cause debris such as twigs, seeds, and leaves to get caught on. Without the jams from debris caught on seams, you do not have to worry about the foundation, HVAC, or your exterior painting job, because the water will not be overflowing onto the sides of the house or near any items below the gutters.
No leaks
A typical gutter system comes with a million parts, well maybe not that many, but it feels like there are many pieces and segments to traditional gutters. One trough butts up to another and is connected with sealant, leaving a ridge or seam. Wear and tear causes the sealant to wash away and the joint to become weak. This is when leaking from the gutters occurs and can cause significant problems with the foundation as well as landscaping issues. Make sure to choose seamless gutters to avoid any water leaks or issues with your foundation.
Weather resistance
The weather in Ohio can be a huge factor in your decision of installing seamless gutters. The weather can be quite harsh and seamless gutters are uninterrupted, so they do not have weak areas where they would crack, fall, or sag like typical gutters. Just like your roofing, you want your gutters to be top notch and since seamless gutters do not have connections where the rainwater can slow down and back up, there is no possibility of rust formation as there is no standing water to cause it; same goes for extreme mold growth.
Aesthetics
The last reason to choose seamless gutters over traditional sectional gutters is that they look much better without all the fasteners that keep the sectional gutters together. The curb appeal of your Cincinnati home is much better when you perform power washing on your house to remove grime and the same is true with gutters. Install seamless gutters to give a look of continuity! If you want seamless gutters but cannot take care of them, make sure to hire a local handyman in your area that can perform annual gutter cleaning for you.
As you can see, there are multiple reasons to complete gutter installation in your home. Whether you install them as your old troughs are beyond gutter repair, for fewer clogs, for no leaks, for weather resistance, or for aesthetics only, you will enjoy the comfort they bring when you have an outrageous thunderstorm roll through Cincinnati. If you follow our advice on the top five reasons you should consider installing seamless gutters, you will have the best functioning gutters in all of Cincinnati!