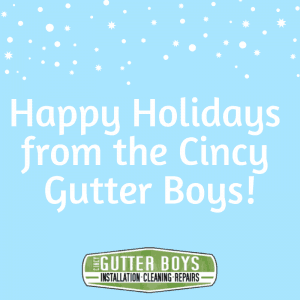 With the year coming to a close, we're enjoying the holiday season and looking back on a year well done! We are so proud of how the Cincy Gutter Boys community has grown, and you all have been a huge part in that.  
We launched our new partner company, New Heights Roofing, creating an opportunity to take the expertise we've developed working on roofs while maintaining and installing gutters for the past several years, and putting it to work with roof installation and repairs! Now customers can profit from our lessons and observations on roofs through this partner company.
Later in the year, we also launched our improved automated online quote system. Streamlining the customer service experience we can offer, getting critical information to you with just a few clicks of the mouse. If you worked with our old system, you'll be pleasantly surprised at the more streamlined and user friendly update. We've been able to empower you to make the best decision for your home, and start the conversation about your service on your schedule.
We also want to stop and say thank you to all of you who've made this year so fantastic. Here's a few of the fantastic reviews we've had this year!

"Dave was great and did a fantastic job! I wish all contractors were like Gutter Boys I highly recommend them and are keeping them in my phone! Thank you GB!" Diane
Checked our roof for loose shingles and removed leaves from top of gutter covers. Did not charge for downspouts that they said did not need to be cleaned but had been on original estimate." - Peter & Irene H
"This has to be one of the easiest home maintenance processes for me to deal with because of Cincy Gutter Boys. They call me to remind me it's time for Service, they text me to say they're coming, when the job is complete, emails me my invoice, I pay online. How can it get much easier than that? Thx for a super busy mom. Love it!!" Tiffany
"These guys are great to work with. They are extremely responsive and did a great job cleaning out our box gutters. I received a text when they were on their way & when they were finished. The invoice (which was much less than what we were quoted by others in the area) was emailed to me and I could pay online directly from the email. Huge bonus points for not having to worry about mailing out a check! All in all we had a great experience and will definitely be using them again in the future" - Grace
Again, we cannot thank you all enough for just how great this year has been! Cincy Gutter Boys will continue to be here to serve the Greater Cincinnati area and give you the best experience with your home you can hope for! Have a great year and happy holidays!
To get a quote or schedule an appointment, call or text us at 513-479-8800. You can also complete the contact form below.