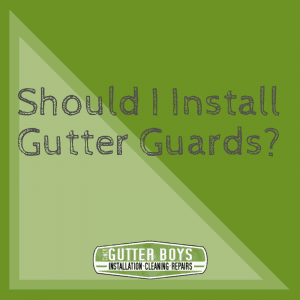 Thunderstorms are occurring across all of the Ohio areas. Cincinnati is getting rain as well, and with rain comes the thought of the gutters. If your gutters have storm damage or you need new gutter installation, now is the best time to do it. Clogged gutters are another hassle, and in this short guide, you will be informed of the benefits of installing gutter guards.  
Less frequent gutter cleanings
The main advantage of installing gutter guards is to prevent tree debris from falling into your gutters. The gutters do not catch all the debris such as leaves, twigs, seeds, pods, or other foliage, but they do a great job, which causes you to have to clean the gutters less frequently. Because you do have gutter guards installed, it may cost more for the gutter cleaning as the guards have to be removed, the troughs cleaned, and the guards re-installed after the cleaning.  
Cost
The cost of gutter guards varies on the type of gutters you have as well as the size and age of your gutters. The cost of a gutter cleaning will go up once gutter guards are installed, as they need to be removed and re-installed with each cleaning. Storm damage could also cause the leaf guards to detach in which you would need them re-installed. The cost of the gutter cleaning will be much less though so you are saving money monthly in this regard. If you stay in your home for many years, there is a cost savings. If you sell your home after five or seven years, you may not notice the cost saving of the installation of the gutter guards, but your resale value should be higher because of the added benefit to the new homeowner.  
Installation
One of the advantages of leaf guards is to prevent the leaves, twigs, seeds, and other foliage from falling into your gutters and clogging them up. The gutter installation for the guards is easy and can be done by a local handyman or gutter services company. Leaf guards are not 100% perfect though. Debris can still fall into the troughs and cause clogs, but they do not happen as frequently.  
Time
The last great benefit of installing gutter guards is that you have more time for you. Instead of crawling up on the ladder once a month, you have a longer period between gutter cleanings due to the prevention of build-up due to the leaf guards. If you do not want to or do not have the time to clean the gutters yourself, make sure to call a gutter services company who can perform the task for you.
As you can see, gutter guards or leaf guards are a great option to keeping those troughs clean. Gutter guards can be placed with new gutter installation or if you have had storm damage that needs to be repaired. They can also be placed after a good, thorough cleaning of your gutters. If you follow our advice on the top four benefits of installing gutter guards, you will be less stressed and have more time to do what you want to do, rather than cleaning your gutters every month! 
To get a quote or schedule an appointment, call or text us at 513-479-8800. You can also complete the contact form below.