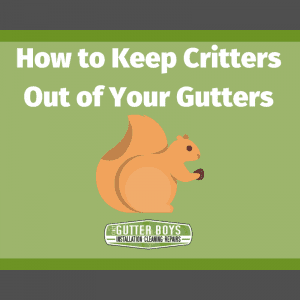 The cool and dark environment inside of your gutters makes an inviting home for small animals. By following basic gutter repair and cleaning, you can prevent critters from crawling around your gutters, roof, and downspouts. Follow these tips to keep small animals like birds, squirrels, bees, and mice away from your home.
Keep your gutters dry. Allowing leaves and other debris to build up in your gutter causes moisture buildup, inviting mosquitoes and other insect to lay their eggs there. By keeping your gutters clear, you will allow rainwater to evaporate rather than collect.
Rinse regularly. While proper gutter cleaning is an essential habit in general, its especially important in preventing animal infestation. Use a power washer yourself or hire a service to get your gutters cleaned a few times per year.
Apply animal-safe repellents. Immediately after gutter installation, spray an eco-friendly repellent onto your gutters and downspouts. This will provide the first line of defense in keeping critters away. Be sure to follow the directions and reapply as necessary.
Build a bird house. Construct or purchase some birdhouses to give these flying friends a place to go other than your gutters. While this might not be perfectly effective, these small houses are cool and dark shelters for the birds to build their nests. If you are lucky, these houses will be more appealing than gutters and downspouts.

Hire a professional. If you are having trouble keeping animals away from your gutters and downspouts, hire a professional to come inspect and give advice. A professional gutter installation and repair service is a good place to start, as they will have advice on how to keep your gutters as clean as possible.
By keeping animals away from your gutters, you will keep these structures functioning for years to come. Be mindful that certain types of gutters will last different amounts of time. Know when cleaning and repair is not working and replacement is necessary. Copper gutters, for example, can last up to 50 years, while galvanized steel gutters last up to 20. As always, the best way to ensure that your rain gutters are enduring their full potential lifespan is to hire a company to maintain and repair old gutters.
To get a quote or schedule an appointment, call or text us at 513-479-8800. You can also complete the contact form below.