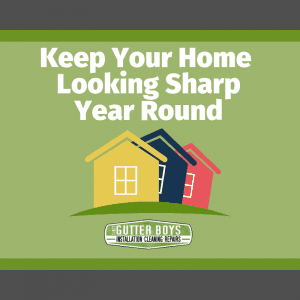 Keep Your Home Looking Sharp Year Round with Proper Gutter Installation
A proper gutter installation can be a key to a sharp looking home. Sagging gutters take away from your home's exterior appearance. Everything else can be great in your home's exterior: great landscaping, a clean exterior, and a professional patio design. However, this rather small detail can ruin its look and eventually damage the rest of your house.
Besides, sagging gutters can lead to expensive repairs. Gutter installations in Cincinnati weather should be avoided during rainy weather because you want to avoid the moisture hold up on your house exterior.
Time for Some Spring Cleaning
Cleaning your gutters periodically is the first line of defense from getting them to sag. Gutters don't last forever, they do have a typical lifespan of around 20 years, depending on the material and care.
Taking care of your gutters can be a task you can do if you're into DIY home fixes: you can clean the gutters yourself and save a couple of bucks. If you do, make sure you take the appropriate safety precautions when using a ladder. You can find information on safe ladder usage here.
Thousands of people visit the ER every year due to ladder related accidents, and surely many of them were trying to clean their gutters. Please don't be one of them and be careful. You won't save money if you have to factor in an emergency visit to the hospital.
Check for Leaks
Sloppy gutter installation in Cincinnati or natural wear from the expansion and contraction of metal due to temperature changes can lead to gutter leaks. Water in the wrong places can ruin your roof, your basement, and your landscaping. After making sure gutters are clean, possible leaks should be checked out. These can lead to sagging/warping as well as damage to other parts of your house. Foundations, siding and even entire sections of the roof can end up needing avoidable gutter repairs. Remember: your gutters are a vital part of your home's roofing. If they stop working the way they should, they're bound to cause expensive future repairs.
Checking for leak causes such as corrosion, non-flush screws, and loose elbows is a good start. If you can check for regular flow in downspouts and horizontal gutters, Evaluate the situation, and if it's a simple fix, then you could try doing it yourself, otherwise, check with gutter repair expert in Cincinnati.
Check the Pitch
Gutters must be angled downwards in the direction of the downspout. It's usually very hard to tell the amount of angle, but it has to be there. Failing to correctly install or properly place the hangers can have its consequences. Gutter installation in Cincinnati can be a very time-consuming job, and special attention must be placed to make sure it's done correctly. Although you can do it the DIY way, most people are better off contacting a gutter repair Cincinnati expert.
While some people do like to dedicate some time to their homes, you don't have to spend weeks or entire weekends doing this project. Keeping your gutters nice and clean is an easy way to give your house a little bit of an uplift, and to ensure your gutters won't suffer unnecessary wear and tear for months to come.
To get a quote or schedule an appointment, call or text us at 513-479-8800. You can also complete the contact form below.