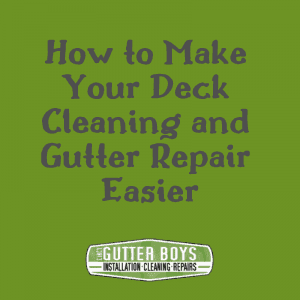 If you're a long-time homeowner, you've likely had to deal with a few gutter repairs or deck issues in your time. In the worst cases, your gutters might have been badly damaged by rainfall. Too much rain might seem like a strange issue to have, but an inch of rain fall on an average sized roof can add up to a 1,900-gallon flood down the side.
And as for decks, sometimes they get a little worn down or dirty being exposed to the elements all the time. But you can't rely on any old bleach for deck cleaning solutions. You need to turn to special chemicals. So to help you keep these two parts of your home in good repair, here are some tips to put into use.
Decks: Avoid Bleach And Household Chemicals
Bleach is an old hand at cleaning, used for years as one of the more common deck cleaning solutions. But the problem is that while bleach can kill mold and remove algae or moss, it breaks down the polymers that hold the wood together. This can damage the wood and shorten the life span of your entire deck.
Instead, turn to oxygen bleach (sodium percarbonate). Its good at killing algae, moss, and other mildew, and it doesn't have the same negative effects that a regular bleach can have. It's also biodegradable and leaves no harmful by-products or residues that can harm the environment, and its often used by deck cleaning services as one of the premier deck cleaning solutions.
Clogged Cutters
For a homeowner, a clogged gutter is the most common gutter repair. Debris from storms and downpours can ultimately accumulate and basically render the roof draining system useless. The weight of the leaves can even make the gutters pull away from the roof. This can lead to an immediate need for gutter repair or get a partial gutter replacement. And gutter installation can be a little expensive.
To avoid this issue altogether you should clean your gutters at least once a year or hire local gutter cleaners to do it for you. In addition, you may want to consider investing in gutter covers or guards to make the cleaning less difficult.
Gutter Leaks and Holes
Gutter joints can leak, which can be an annoying issue when you're trying to get the rain to go in the right spot. You can seal them with a sealant from the inside of the gutter, and at a very small price. Larger holes will need a patch, which can usually be found at the hardware store.
If you're not comfortable doing this repair work yourself, contact a local gutter repair service and see if they can do it for you. Depending on the hole size, it shouldn't take too long or cost too much.
Taking care of your home can be a hassle, especially when it comes to repairing gutters or making sure you have the best deck cleaning solutions for long term care. But it doesn't have to be. Just contact a deck cleaning service or gutter repair service to ensure your home is in tip top shape.