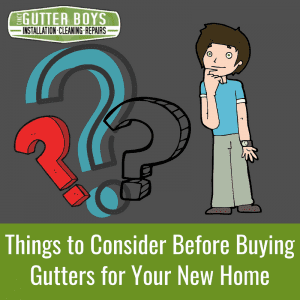 As a new or first-time homeowner, you may have a lot of questions about how to perform maintenance on your home. While there are countless areas of your home's exterior that need attention after you move in, your gutters are of particular importance. Like your home's roof, you likely don't think about your gutters at all until something goes wrong, at which point you may find yourself balking at the cost of new gutter installation.
While many people choose to perform gutter improvements and repair if they find problems with their gutters or gutter guards, others may choose to do something completely different. If gutter improvements aren't for you, one may consider looking into a full-on gutter replacement.
When searching for new gutters to buy instead of dealing with gutter improvements, there are a few things you need to think about.
First, you want to decide what type of material is best for your home both visually and practically. Gutters come in plastic, stainless steel, and copper, just to name a few popular materials. Each costs a different amount, and each can withstand different elements better than the others. It's common for residential gutters to be made of either aluminum, steel, zinc, vinyl, or copper in a standard "K" style. Finally, most gutters for homes come in two sizes: 5" and 6". Talk to your contractors about the materials and size best for your home.
You also need to consider if your home has any specific building codes. If your home is considered a historical structure, the codes might be different than those of a newer, modernized home. These codes are important because they tell you what kind of gutters are needed for the structure. You need to be very clear on the codes and allowances or your home might not pass potential future inspection.
Another thing you need to think about is if you want seamless or sectional rain gutters. Sectional gutters are traditional gutter sections that are pieced together and mounted on the edges of the roof. Seamless gutters are a newer development in the gutter world, but they are an increasingly popular option. They are a single piece of gutter that is long enough to stretch across the desired area. Seamless gutters are less likely to leak since they are one solid piece, but they do require a professional to help install them.
Considering what kind of new gutters you want may be a process, but think about your needs, location, and building codes before even beginning to come up with a decision. If you have any specific questions, talk to local contractors about the best solutions for your home.