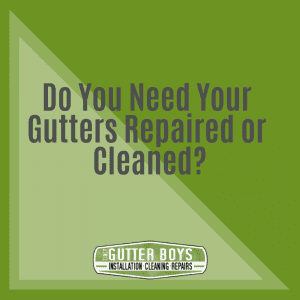 The rainy season is upon us here in Cincinnati, Ohio, and that means it is time to maintain your gutters. Both gutter cleaning and gutter repair are needed on Cincinnati homes to control the rain we are currently receiving on our homes and in our yards. In this short guide, you will be informed of the top four ways to distinguish whether you need to have your gutters cleaned or repaired.  
Leaking
Leaking gutters are the worst. What does it mean if your gutters are leaking? Do you need to have them cleaned or repaired? If you suffer from leaking gutters, you may need to have some gutter repair. It depends on where the leak is occurring. If you have leaking from the seams, it may mean your gutters are old and need to be repaired or replaced. There are now seamless options to avoid leaking in the future. If you do not know where the leak is coming from, have a local handyman come and investigate or call in the professionals.  
Overflowing
Overflowing is a huge issue. Most people think that overflowing is due to a clogged system and that gutter cleaning is needed to address the issue. Sometimes this is the case. If overflowing is occurring near the downspout, this is a sign that you have clogged gutters and a cleaning is in store. If you do not have the time to clean the gutters yourself, make sure to call a gutter services company who can perform the task for you.
Sagging
If you notice sagging or the gutters pulling outward from your home, this could indicate a gutter repair issue. Depending on how bad the sagging or pulling is, it may also indicate a need to replace the gutters. It would be best to have a professional from a gutter services company look and advise you on the best course to remedy the situation. It may be a simple fix such as the gutters were installed improperly and they can now be fitted correctly to fix the sagging. Alternatively, it could be that due to age and wear and tear, the gutters need to be replaced entirely.  
Size
The last way to determine if you need gutter cleaning or gutter repair is to check the size of your gutters. If you are having overflow issues in the center of your gutters, this could be an indication that your gutters are too small and need to be replaced. It could also indicate there are not enough downspouts to control the flow of the rainwater.  
As you can see, there is quite a difference in time, issues, effort, and cost to determine whether you need to have your gutters cleaned or repaired this summer. If you follow our advice on the top four ways to distinguish whether you need gutter cleaning or gutter repair, you will have the best draining system in all of Cincinnati! 
To get a quote or schedule an appointment, call or text us at 513-479-8800. You can also complete the contact form below.