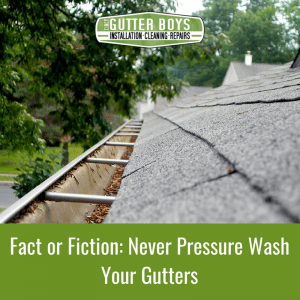 Pressure washing is a fantastic tool for cleaning up around your home. It works great for removing mildew from your walls, cleaning up oil stains from your driveway, or clearing chipped paint from your deck. However, one problem you shouldn't tackle with a power wash is your gutters.
To be specific, we're talking about the inside of your gutters. Cleaning mildew and grime from the outside of your gutters is fine, but too many people, including some professional gutter cleaners, will use pressure washing to clean out your gutters. This is problematic because while your gutters are meant to hold up to a heavy storm, they aren't meant to hold up to a pressure washer, which will bringer a much higher level of punishment.
Further, pressure washing will take the debris that's built up inside your gutters and toss it all over your roof and yard. This creates an unsightly mess. This is why our team cleans your gutters out by hand, using heavy duty gloves and places the debris into buckets, which we will empty into the trash to be taken away. This protects your gutters, allows for an up close inspection, and leaves your home and yard looking as good, if not better, than when we found it.
This practice is just one of the touches that sets our service apart from the rest. Give us a call today and our staff will be happy to show you all the great things that make us the best!
To get a quote or schedule an appointment, call or text us at 513-479-8800. You can also complete the contact form below.