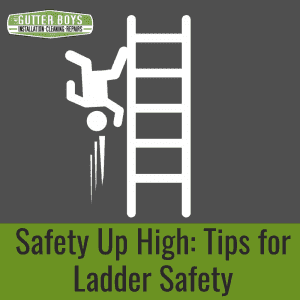 Working on gutters can be a dangerous job, and a good amount of this danger comes from working on ladders. Hopefully, if you have any work required on your gutters or roof, you'll call us to avoid this danger, but you may have other things that need doing around the house that still leave you climbing up a long aluminum ladder high enough to be risking some serious injury if you fall. To that end, we'd like to share some advice with you today on how you can be safer when climbing up and down a ladder.
Choose the right ladder for the job- Check out how high you need to go for the job at hand. Remember that you should never be going higher than two steps from the top for a step ladder and no higher than four steps from the top for an extension ladder. You want to make sure that the job will be in safe reaching distance of this spot or lower. Remember a step ladder is generally a safer option, but an extension ladder can be used if you need to go higher. Also check the weight limits of your ladder, which should be clearly marked. (remember to include your weight as well as the weight of your tools and supplies when considering this) Your ladder should be in good repair with firm steps. It is better to put off a job until you can get the right tools than to rush a job and risk your safety.
Read the directions for your ladder- We know, this is probably the most boring suggestion here, but making sure that you are properly informed on your equipment is critical to safety. Ensuring that you know how to properly engage locking mechanisms is important to keeping your ladder stable. Also take note of items such as the weight and angle recommendations for the ladder. Pay attention to any fittings on the ladder for holding your tools or supplies, you don't want to be searching for these after you've already climbed several feet in the air. Finally, make sure that you identify any special features that the ladder has that are out of the ordinary and may require special attention.
Check out the work site - Before climbing up a ladder, give careful consideration to your work site. Can you safely secure the ladder to a stable spot? Are you setting the ladder somewhere that is free of obstructions when reaching your job? Are there any particular safety risks you need to watch out for like a hanging branch or electric cables?
Keep your hands on the ladder- At all times you should have three points of contact with your ladder while working, ideally two feet and one hand. When climbing the ladder, you should have both hands free for climbing, so use a toolbelt or bag, or have your tools and supplies sent up to you using a line or bucket. You should not be leaning out off the ladder to reach a job. A safe reach distance is generally 2-3 feet, though this will vary depending on the length of your arms. If you need to reach further out as you're working, it is better to stop, come down, move the ladder, and climb back up.
Again, depending on the job, always consider the possibility that it might be better to call a professional. Our staff is ready to assist with your gutter needs today!
Okay, now that you've sat through those safety tips, have some fun watching this video! https://youtu.be/2Eu0AyqlU4w?t=3m4s
To get a quote or schedule an appointment, call or text us at 513-479-8800. You can also complete the contact form below.