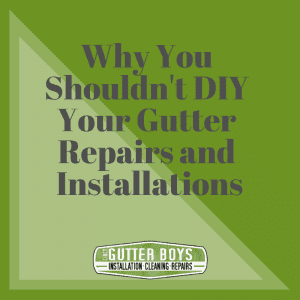 When water freezes in your gutters it can cause damage such as cracks and tears. This can be incredibly irritating when you have gutters that are meant to last up to 50 years such as copper gutters, or 20 years such as galvanized steel gutters.
However, should you notice a crack in your gutters it's essential that you don't try to fix your gutters yourself. Removing leaves and debris from your rain gutters are one thing, but gutter repair and cleaning is another. Here are a few reasons why it's better to leave gutter repairs to a gutter repair service:
Repairing a gutter without experience is dangerous
Using a ladder can be incredibly dangerous even for a professional gutter repair service. This is especially true when it gets colder outside and the roof becomes icy. Trying to DIY repair your gutters isn't worth the hospital bill should you take a wrong step.
Repairing a gutter can be difficult on your own
There's a reason why a gutter repair service is owned by professionals. Gutter repair is far more difficult than it looks and if you're not prepared for what you find such as animals or bugs you could get hurt. Additionally, you may be able to reattach your gutter system to your house, but a gutter repair companies knows how to set your gutter system so the rainfall won't cause damage to your roof or siding.
With a gutter repair service, you're guaranteed quality
When you try to DIY your roofing, odds are you'll be purchasing the store-bought gutters that contain seams. Without proper gutter installation, these gutters can result in sagging and additional leaks which will only cause additional damage to your home and waste your money. A gutter replacement service offers you the quality seamless gutters you need without the additional cost of having to pay for trips to the hardware store.
DIY repair doesn't offer you a warranty
Should something go wrong with your gutter system during the winter, you won't have a warranty to protect your roof or siding from damage or to replace the system itself. With gutter repair services, you have the option of purchasing a warranty in order to keep your system and your home safe until you need another repair.
Cleaning everyday debris from your gutters is one thing, but repairing and replacing your gutter system is another. Consider letting the professionals handle the dirty work to keep yourself safe and to protect your roof from any gutter disasters.