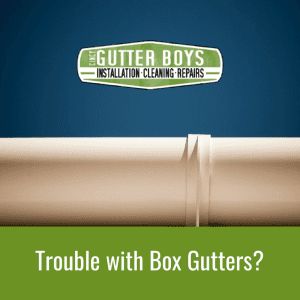 Box Gutters are designed to be concealed from view. Since they are concealed, they can also become neglected and develop leaks into your home. The first step in maintenance is to keep them clear of debris and keep the painted surface (if they are galvanized steel) free from rust. You need to maintain any gutter system, but with box gutters, you need to make certain that no trapped or standing water causes damage that can shorten the life of your gutter system.
"Not only did they do a great job relining my box gutters, but they also figured out the problem with my leaky chimney--something that four other companies had come out to do unsuccessfully. I couldn't be happier."  -- Susan T., Cincinnati, OH
Over time, box gutters tend to sag, split at the seams, or even rust out. Leaving a box gutter that needs repair unattended will always lead to more problems and more money in the end. It is essential that you do not wait to reline your box gutters! Waiting will result in damage to the framing (rotted fascia, soffit, or rafters) and eventually water coming into the interior of your home.
Metal gutters need to be protected from the corrosion caused by standing water. Due to the variable temperatures that your gutter has to endure, the joints and seams can also fail and cause leaks. We can often patch the seals with roofing cement or line the box gutter with a membrane liner but these are stop-gap methods and the gutters will eventually need to be rebuilt. Your box gutter should always be repaired or replaced by a skilled craftsman who is familiar with this type of gutter.
If, however, your box gutters need to be reframed, we are the experts at rebuilding box gutters and performing the metal work needed for relining them. Just because we are the experts in box gutters doesn't mean that we are the most expensive. In comparing our rates to the competition, customers are saving thousands of dollars!
Upon completion of the work, we recommend a strict schedule of gutter cleaning and maintenance to get the maximum life out of your box gutters. No matter what state your box gutters are in, call us to diagnose your gutters and give you a free estimate to put your mind at ease.
"Barry went above and beyond to make sure that my box gutters were running properly again. It's obvious that he knows what he's doing and really loves his work. I would highly recommend the Gutter Boys to anyone." -- Brodie T., Cincinnati, OH
To get a quote or schedule an appointment, call or text us at 513-479-8800. You can also complete the contact form below.