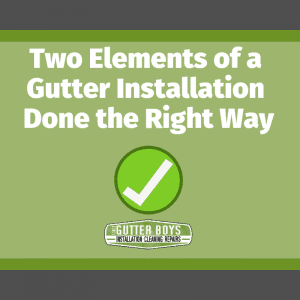 New Gutter Installation
Gutters are a vital part of your home's exterior. They carry out a variety of functions and contribute to the longevity of your home. They help keep the foundation in good condition as well as the roofing's general condition. Although they last a long time, they will eventually need a replacement. A proper gutter installation will detemine how your home looks as well as how well the gutter system will protect your home.
So if you've decided that you need a new gutter installation, as with all things home improvement, you'll find out that there are many available options. There isn't a "one-size-fits-all" solution. There's rather a "best solution for you" solution. Get the right advice when it comes to your home's specific condition and make your budget work for you to ensure you've made a good investment.
Make Sure the Design Is Right for Your Home
Are you installing gutters to your home for the first time? If this is the case, make sure you get the design done by a professional who knows about house exterior design and gutter installation. Cincinnati can often be a very rainy city. This leads us to consider several factors when designing a gutter system for a home: expected rainfall, gutter size, downspout location, and roof pitch. They all play a part and have to be taken into consideration when choosing gutters. These are fairly complex calculations, so your best bet is to leave it to a professional in order to avoid any rework and complicated gutter repairs.
Are you having problems with your gutters all the time? Leaks, gutter warping, clogged downspouts are all problems that you can come across and that require gutter repairs. To a certain degree, they are normal after some time has passed, but if you feel like you can never get rid of them no matter what you do, the cause could be the design. For example, if the size isn't the right one, you will find the gutter system won't manage the rainfall and become clogged more often. Having an expert determine if your gutter design is adequate is the first step in long lasting gutters.
Choosing the Right Material
There are a couple of options when it comes to choosing your gutter materials. aluminum, galvanized steel, copper, vinyl and wood are the most common materials used in gutters. Although aluminum is the most used due to its durability and affordability, other materials should also be considered.
Galvanized steel are the budget option, and they offer most of the benefits of aluminum, but also have a shorter lifespan. Vinyl is the most DIY friendly type. They are easier to install than other materials because they're lighter. Also, they're budget-friendly and come in a variety of colors to complement your home's siding. The downside is that they may not be appropriate for all kinds of Cincinnati weather.
Copper is usually chosen due to its appearance, and because it complements some exteriors perfectly. It doesn't rust. Copper lasts for a very long time and you can almost avoid gutter repair costs entirely, but it's also the most expensive option.
Wood has fallen out of use for gutters. It's just not the best option. The only reason wood is used, is because it was on the original  Other than that, most Cincinnati homeowners are better off staying clear off of wooden gutters.
For the best in Cincinnati Gutter installation or Gutter repair, call Cincy Gutter Boys.
To get a quote or schedule an appointment, call or text us at 513-479-8800. You can also complete the contact form below.