Limited time offer: 10% off new gutter installation/replacement OR full gutter guard installation
Call or text to schedule your quote today!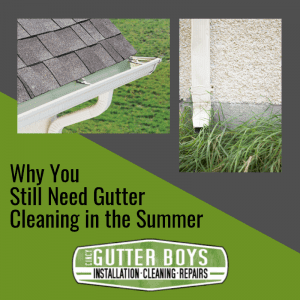 Everyone knows you need to get your gutters cleaned in the spring. With the steady spring rains, you are able to see the regular work your gutters do on an almost daily basis. Flowering trees cover your roof and fill your gutters with all kinds of debris. So now that spring is over, you might assume you can relax, and not bother with your gutters again until fall.
Not so fast! Summer brings with it a few unique gutter issues, and you'll want to make sure you keep an eye out for them. Scheduling another professional gutter cleaning during the summer months is a great way to ensure your home is kept in the best condition and you catch any possible issues early, when they're easier to repair.
Heavy summer rains
It doesn't rain quite as often in the summer around Cincinnati as it does in the spring, but when it does rain we're likely to get heavier rains. While we usually see on average an inch less of rain in July than we do in May, we see that rain shoved in fewer days. This means that when it does rain in the summer, the gutters on your home will be put under much more pressure. This increased pressure over a short period of time increases the risk of clogs and damages from summer storms. Throw in high winds with possible debris, and you're looking at a gutter nightmare. What's more, because the rain isn't as frequent, you may not notice that damage right away. This means that a gutter system damaged in one storm may go unattended until the next storm, where that damage will spread.
Increased animal activity
As the summer months heat up and rain becomes less frequent, animals in your yard will increase their activity. Squirrels and birds especially will run around your yard and your gutters. These animals are looking for food and shelter, and they may find both in your gutters if they aren't taken care of. Small seeds get stuck in your gutters and attract these animals, which can cause damage in their hunt for food. What's worse, if you have an extended period of dry days, it's conceivable that they may consider your gutters an excellent nesting point. This leads to even more debris than usual being stuffed into a tight corner on your gutters and serious clogging issues.
Mold damage
With hot and humid summer days, your home becomes a possible victim to one of the slowest moving but most damaging complications your home can face. Mold doesn't come up as a dramatic attack on your home, rather it slowly eats away at the material of your home. Silently degrading your home's construction. While it may not be dramatic in action, the damage it can cause is. By the time you discover mold damage, you may find your fascia, insulation, and walls have all fallen victim. Getting your gutters cleaned by a professional has two benefits. First, keeping your gutters clean prevents the kind of leaking that causes mold growth. Second, a professional gutter cleaner will inspect the fascia and surrounding construction for signs of mold, and alert you to problems before they can become worse.
So this summer, don't let your gutter cleaning take a vacation. Schedule a professional gutter cleaning and inspection by the Cincy Gutter Boys, call us today
To get a quote or schedule an appointment, call or text us at 513-479-8800. You can also complete the contact form below.